Overview
Currently in World // Zero there are 5 Worlds. The 5 Worlds' names are Crescent Cove, Embersky Jungle, Glacier Valley, Pharaoh's Canyon and Konoh Gardens.
To access the next world, you will need to complete all of the Main World Quests in your current world. Even if you are able to go to the next world, the first dungeon may not be your level.
The World 1 is a forest and beach scenery, World 2 is a burning jungle, World 3 is a snow forest/valley, World 4 is a desert/scrap canyon, and World 5 is an oriental/garden themed world.
Each world gives different equipment and different level equipment. World 1 gives equipment with a maximum level of 15, World 2 gives a up to level 30 equipment, World 3 gives up to level 45, World 4 up to level 60 and World 5 up to level 75- but is affected by the endgame leveling system which is mentioned in World 5.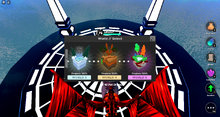 World 1- Crescent Cove

World 2- Embersky Jungle

World 3- Glacier Valley

World 4- Pharaoh's Canyon

World 5- Konoh Gardens

Community content is available under
CC-BY-SA
unless otherwise noted.