Mounts are items which players may equip, allowing them to move at a greater speed as opposed to walking or sprinting. Nearly all mounts in World // Zero are obtainable from either Battlepasses or the Cash Shop. However, there are exceptions, such as the Hellhorse mount which is only available through purchasing the Starter Pack, and the Boarwolf mount which is a reward for completing a side quest in World 1. Most mounts are tradable, such as the ones from battlepasses, but some, like event/guild reward mounts are not.
Players can equip mounts by placing them in the Mount slot in your cosmetic inventory, and then pressing Z on PC or the horseshoe symbol (1 second cooldown).
When a player is on their Mount they cannot use their weapons or their Pet's ability.
Currently, all mounts have the same walkspeed.
Mounts
All mounts are Tier 6.
Trivia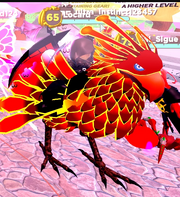 The Wolf mounts have been remodeled once. It was part of an update on 3/27/20.
The Boarwolf Mount, the Unicorn Mount, the Sleigh Mount and the Easter Bunny Mount are currently the only mounts players can get by not spending Robux or crystals.

However, all mounts except Boarwolf have limited time to obtain.

The Gold Rhea was originally used in Shard Online.
The Gold Rhea is the only mount in the game to have 512x512 textures for each of its mesh parts.
The Gold Rhea very closely resembles a Chocobo from Final Fantasy II, hence why it is not available to players.
The Phoenix was originally released for a few minutes in the beta stages as a mistake, but was added again during the Guild update as a prize for the top ten guilds in Season 1.
Wicked Broomstick, Sleeping Cloud, Surfboard, Comet, Sleigh, Love Cloud, Rose, Bucket, Rolling Egg and Floatie are the only mounts that are not live entities.
As of 7/26/22, the free Boarwolf Mount's walkspeed was increased to match the same speed as other premium mounts.
Gallery
[Dates listed in: mm/dd/yy format]