Overview
Bosses are strong enemies that appear in worlds, dungeons and towers.
In dungeons
All dungeons and towers each have their own unique final boss, which must be defeated in order to complete the level. Some may also contain mini-bosses, which are lesser bosses that usually appear in the middle of the dungeon instead of the end.
Bosses are different from normal mobs in that most of them possess the ability to deal special attacks, which deal more damage than basic attacks. Some special attacks are even able to instantly kill the player.
When defeated, bosses will glow light-blue instead of red before fading away. Bosses in towers will also grant the player chests.
In open worlds
Some bosses spawn during regular intervals in open worlds instead of dungeons. Unlike dungeons, players are not given a set amount of lives, so they cannot truly lose boss battles. However, the boss will disappear if the player(s) fail to defeat it in time.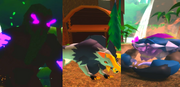 World 1 (Crescent Cove)
Dungeons
Open World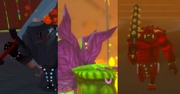 World 2 (Embersky Jungle)
Dungeons
Open World


World 3 (Glacier Valley)
Dungeons
Open World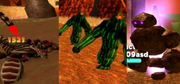 World 4 (Pharaoh's Canyon)
Dungeons
Open World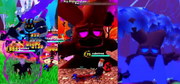 World 5 (Konoh Gardens)
Dungeon
Open World
Retired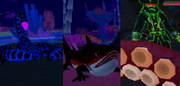 World 6 (Atlantic Atoll)
Dungeon
Open World
Retired


World 7 (Mezuvia Skylands)
Dungeon
Open World
Secret
World 8 (Wasteland Oasis)
Dungeon
Open World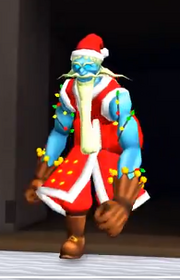 Event Bosses
Trivia
Several bosses are taken from ancient mythologies and legends:
The models of certain bosses have also been recycled, re-textured, and/or resized.
Dire Boarwolf, Hades, The Dark King, Sentry of Cerberus and Ruin's Hand are bosses that appear both in dungeons and in open worlds.
Crabbage, Castle Knight (World 3 event bosses only) and Ruin Guardian are the only two mobs that can be both a regular mob and a boss.
Dire Boarwolf and Cerberus are only bosses that have a corresponding pet and mounts.
Anubis, Trickster of Titans is the first boss that has a higher level than the dungeon's required level. This is due to the fact that Pyramid Dungeon originally had a higher required level.
Before May 12th, 2022, Corrupted Greater Tree and Davy, King of the Sea were the only bosses that were not required for quests.
The bosses of all world final dungeons, as well as all the final bosses of towers, provide badges to the player when defeated.

Bishop is the only Event Boss that awards the player with an avatar accessory.

The Kraken is the only boss that is completely immune to player attacks. Instead, players must attack its tentacles instead of its body.
Winterfall, Corrupted Greater Tree, Ignis, Davy, the Kraken, Taurha and Fallen King are the only dungeon bosses that have an instant-kill ability.
Ranged Classes is considered the most effective class for fighting bosses as many bosses are not capable of ranged attacks. And it can also move while attacking.
Some boss battles recycle soundtracks from other bosses or dungeons.